Regular price
Sale price
$55.00
Unit price
per
Sale
Sold out
This tank will be delivered to you pre-filled with liquid propane gas, ready for use!
CORE EXCHANGE IS REQUIRED. Upon delivery, you'll need to provide us with an empty 17 Lb Composite Fiberglass Propane Tank as a core exchange for a freshly filled tank that we will provide you. Don't have one yet or need a spare tank? See this page.
This 17-pound composite propane spare tank is constructed using fiberglass composite materials, making it incredibly lightweight and easy to handle. Weighing in at just 17 pounds, it is 50% lighter than traditional steel propane cylinders, yet it is just as durable and can withstand the rigors of outdoor use.
In addition to its lightweight construction, this propane spare tank is also designed to be corrosion-free, ensuring that it will last for years to come - perfect for harsher conditions like boats, marinas, and RVs. The tank's outer walls are translucent, which allows you to easily monitor how much propane is left inside. This feature is especially useful when you're in the middle of cooking a meal and don't want to run out of propane unexpectedly.
The tank comes encased in a plastic housing with handles, making it easy to carry and transport. Depending on availability, the tank may be shipped with either a red or blue handle. The wide, stable base of each cylinder helps prevent it from tipping over, even on uneven surfaces.
Overall, this 17-pound composite propane spare tank is the perfect choice for anyone who needs a lightweight, durable, and corrosion-free propane tank. It's easy to handle, easy to transport, and allows you to cook delicious meals with ease. So whether you're planning a camping trip or hosting a backyard BBQ, be sure to have this propane spare tank on hand and enjoy the convenience and efficiency of propane-powered cooking!
Some examples of where you can use your Composite Fiberglass Propane Tank:
Boats
Outdoor grills
Portable heaters
Patio heaters
Outdoor cooking stoves
Camping stoves
Mosquito magnets
Propane-powered generators
Other small propane-powered appliances
Share
View full details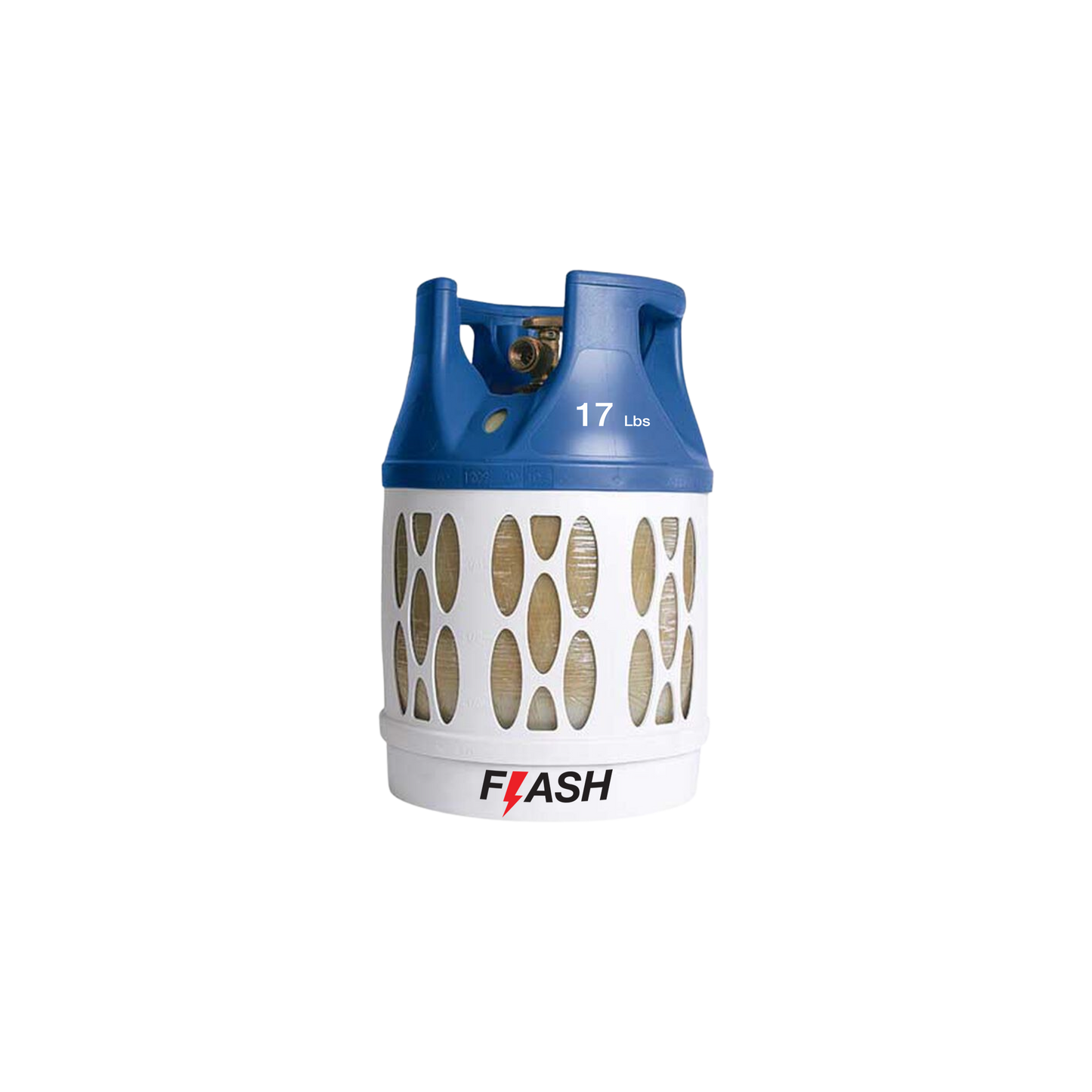 How the tank exchange process works:
Select a quantity

Add to your cart the number of tanks you'd like and place your order.
We'll deliver

We'll bring you freshly filled tanks to you
We'll pick up your empties

We'll pick up your empty tanks. Leave them in a suitable, visible spot so that we can easily access them.
Enjoy!

No need to make a trip to a fill station - our delivery service ensures that you always have a full tank ready to use.
What's the difference between an Exchange/Refill vs. New/Spare tank?
Exchange/Refill

Easily swap out your empty tank for a full one

New/Spare Tank

Perfect if you don't already have an existing propane tank or if you want an additional tank as backup (we recommend!)